Sum Girls Boutique is a sustainable fashion + new apparel and accessories boutique for Tweens, Teens and Ladies of all Ages. Inspired by the blog Dim Sum and Doughnuts, written by Robyn Coden since 2011 for her daughters to have when they get older, Sum Girls Boutique is their way of bringing the blog to life. It's a warm and whimsical place filled with current, timeless and unique brand name pieces. It is also a place of empowerment, sisterhood, good values, smiles and memories. Sum Girls Boutique is located in the heart of downtown Berkley, MI.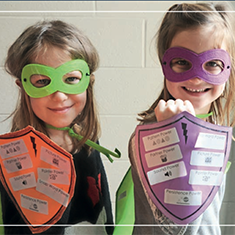 Berkley Schools: Striving for Excellence Since 1840
By Sara E. Teller
SINCE ITS INCEPTION IN 1840, THE BERKLEY SCHOOL DISTRICT HAS ENJOYED REMARKABLE SUPPORT from the community, including businesses and families outside of the District. "The incredible success Berkley students experience is possible in part because of the overwhelm- ing community support provided at every level to ensure they are provided with a state-of-the-art educational experience," explains Director of Communications, Jessica Stilger.